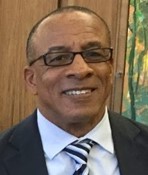 Ignatius Jean is a national of Saint Lucia. He is the Executive Director of CAWASA since 2014 and member of the executive of the CWWA since October 2019, in his capacity as Chairman of the Local Organizing Committee for CWWA Conference and Exhibition scheduled for Saint Lucia, 2020.
He has over 3 decades of service in regional and international organisations, technical cooperation and government. His experience in the water sector includes, focusing on training and technical capacity development, institutional and regulatory issues; supported several Regional studies in the water sector focusing on policy institutions and regulatory incentives; and coordination of regional and international water operator partnerships as well as collaboration with donor agencies.
He has undertaken several continuing education programmes including Utility Regulation and Strategy at the Public Utility Research Centre (PURC), University of Florida. Mr. Jean holds a M.Sc. degree in Agricultural Management and Post Graduate Diploma in Agricultural Economics from the University of Reading, UK.