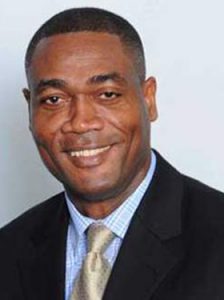 Mr Barnett is an accomplished Engineer of extensive experience, specializing in water and waste engineering. He has been an employee of the National Water Commission (NWC) for the past 25 years, managing both technical and commercial operations for water and wastewater services.
During his sojourn in the NWC, Mr Barnett worked in various capacities such as Wastewater Engineer, Area Manager, Vice President Technical Operations, covering all parishes.
He was appointed President of the NWC on August 1, 2015.
Mr Barnett has general oversight of all aspects of the organisation, including operations, finances and the NWC strategic direction. His specific responsibilities include:
• Planning, directing and controlling the operations of the National Water Commission in accordance with agreed Government and Board of Commissioners' policy directives.
• Formulating and overseeing the implementation of the Commission's long-term strategic plans to ensure the Commission's development.
• Ensuring that the Regulatory and Statutory roles are pursued in accordance with the regulatory guidelines and related Acts.
Under his leadership, Mr Barnett has embarked on the following projects.
a. Partnership with the International Atomic Energy Agency to conduct hydrological assessment of the Kingston and St. Andrew basin and an assessment of the Inswood aquifer recharge system using stable isotopes.
b. Consolidation of wastewater treatment plants in Kingston and St. Catherine, as well as expanding the collection network, redirecting all waste to a central treatment facility, Soapberry Wastewater Treatment Plant
c. Leading the water efficiency or Non-Revenue Water (NRW) Program, for Kingston and St. Andrew, a project financed by the Inter-American Development Bank (IADB)
d. Universal metering and Automatic Meter Reading (AMR), through a five-year arrangement with Diehl meter for the supply and installation of 450,000 meters island wide as an initial thrust of improve services delivery and promote efficiency and conservation.
e. Modernising of NWC's ICT infrastructure with the implementation of updated Customer Information System (CIS), Geographic Information System (GIS), Payroll, Financial Information Management System (FIMS) and the implementation of the Voice Over Internet Protocol (VOIP) system.
Among his educational qualifications are a Master of Science Degree in Water and Waste Engineering from Loughborough University in the UK, a Bachelor of Science Degree in Chemical & Process Engineering from the University of the West Indies and a Diploma in Chemical Technology from the College of Arts, Science and Technology (CAST).
Mr Barnett is keenly aware of the NWC's critical role in national development and uses his wide experience and expertise to positively impact the various areas of the company's operations. He is currently serving as the Chairman of the Cabinet appointed Enterprise Team in the pursuit of Public Private Partnership for water and sewage projects.
His professional memberships and affiliation are the Jamaica Institute of Engineers (JIE), Professional Engineering Registration Board, Water Supply & Sanitation Collaborative Council (WSSCC), Past President of the Caribbean Water and Wastewater Association (CWWA) and Past President of Rotary Club of Downtown Kingston 2019/2020).