Alphonsus Daniel (2016 – 2018)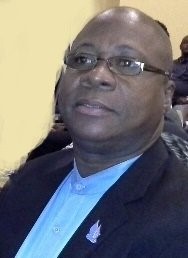 Alphonsus Daniel has been a practicing Mechanical, Sanitary and Environmental Engineer for 30 years with a wide range of experience in the planning, design, supervision and management and maintenance of water and waste water systems (both public and private sector projects).
A 1986 graduate from Superior Polytechnic Institute and the University of the Orient in Santiago De Cuba, Cuba with a B.Sc. and a Masters of Engineering in Mechanical Engineering. After graduation, experience has been developed through working with the National Water and Sewerage Authority Grenada, and later in 1994-1996 pursued a post graduate Diploma and a Master of Science Degree in Sanitary Engineering, then was the sole founder of Daniel and Daniel Engineering in 1999, The company started with a Alphonsus Daniel as the lone engineer and his wife and secretary. Today this company has grown to eight staff members. Daniel and Daniel Engineering has been performing consulting services for Pan American Health Organization, (PAHO), The Caribbean Environmental Health Institute (CEHI), The United Nation Food and Agriculture Organization (FAO), St. Georges University, Creative Designs and Building Company Ltd. The National Water and Sewerage Authority (NAWASA), The Government of Montserrat, The Government of Grenada, Caribbean Development Bank (CDB), The Caribbean Basin Water Management Project (CBWMP) now CAWASA, the Caribbean Community Climate Change Centre (5 C's), the Organization of Eastern Caribbean States (OECS), Private clients, in St. Vincent CCA- Donald Trump Villas, Anguilla, Trinidad and Tobago, Antigua, St. Kitts and Nevis, etc.
Alphonsus Daniel is the Immediate Past President of the Grenada Institute of Professional Engineers (GIPE), serves on many technical committees; and represented the GIPE and the Grenada Chamber of Industry and Commerce on the National Science Council, the Climate Change Committee, alternate member on the National Emergency Relief Organization (NERO) now NADMA.
He has been a member of the Global Water Partnership Caribbean (GWP-C) since its inception in 2004.
Mr. Daniel has a passion for lecturing and has been the roving lecturer of The Caribbean Basin Water Management Programme now CAWASA which is responsible for training personnel of all the Water Utilities across the Caribbean. Lectures are in basic Hydraulics for water operators, advanced Potable Water Distribution Modeling and Sewage Collection Modeling using software: WaterCad and SewerCad; Water Distribution and Plant Maintenance, water reuse and Unit operations.
He is an advocate for the use of appropriate and sustainable technology in the management of wastewater in the Caribbean Small Island Developing states (SIDS)