Andrew P. Hutchinson, B.Sc., Dip. S.E. (Delft), MICE, CEng., FBAPE, P.Eng.
Senior Principal with Stantec Consulting Caribbean Ltd
CWWA President (1994 – 1996)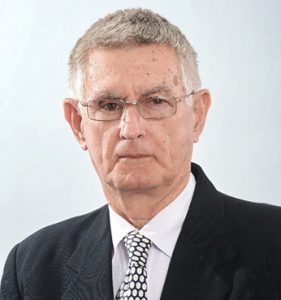 Andrew is a registered Professional Engineer in Barbados and St Lucia, and a Chartered Engineer (UK); he holds a BSc. (Hons) in Civil Engineering from the University of the West Indies, Trinidad (1971), and a Post Graduate Diploma (Distinction) in Sanitary Engineering from the International Institute for Hydraulic and Environmental Engineering, Delft, Netherlands (1974).
He has more than 47 years' experience in the planning, design and project management of a diverse range of civil, structural and environmental engineering projects across the Caribbean. Andrew has served in many Executive and Advisory positions and is also a member of several Engineering associations and societies within the profession. He has been a Director of the Republic Bank (Barbados) Ltd since 2012.
Andrew was President of the Barbados Association of Professional Engineers (1983-84); Chairman of the Engineer's Registration Board, Barbados (1994-97); President of the Caribbean Water & Wastewater Association (CWWA) (1994-96). He received an award from the UWI on the 25th Anniversary of the Faculty of Engineering (April 1987): "In recognition of the contribution to the national development of your country within the Caribbean region". In October 2000 he received the Gold Award from the CWWA for his "Contribution to the Caribbean Water & Wastewater Sectors".
He is a strong advocate for the improved management of Barbados's water resources and improved efficiencies at the Barbados Water Authority. He is very passionate about the use of "Rainwater Harvesting" to supplement the water resources of Caribbean Islands.
Andrew has developed and successfully used a digital "rainwater harvesting model" to predict runoff volumes and optimize storage requirements for sustainable irrigation. His expertise in rainwater harvesting was used for the 'Farmers Dam and its 68MG Storage Lake' for irrigation of the Apes Hill Golf Course; the Lion Castle Polo Estate's 6MG irrigation pond and the 3MG Fire Water Storage Pond at Mount Gay Distilleries Rum Ageing Facility in Barbados, among others.
Andrew has prepared stormwater management master plans for several projects in urban and rural settings across the Caribbean, using HydroCAD software to model the impact of extreme stormwater rainfall events and determine the most effective flood mitigation measures. He has also authored several Environmental Impact Assessments (EIA) for a diverse range of projects in the Caribbean.