WORLD WATER DAY 2016: BETTER WATER, BETTER JOBS 
(Media Release on the 22nd March 2016)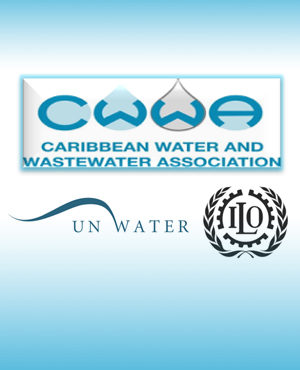 In observance of World Water Day, the Caribbean Water and Wastewater Association (CWWA) and the International Labour Organization (ILO) Decent Work Team and Office for the Caribbean  have joined together to highlight aspects of this year's theme – Better Water, Better Jobs.
The ILO Director-General and Chair of UN-Water in 2016, Mr Guy Ryder, states that the availability and sustainable management of water has a clear and direct link to the creation of quality jobs. About half of the world's labour force work in water related sectors and nearly all jobs depend on water and those who ensure its safe delivery. The quality and quantity of water has a direct impact on workers' lives and health.
Caribbean countries  face a major challenge in providing adequate supplies of freshwater to its population  In many countries, the annual per capita freshwater availability falls far below the 1,000 cubic meter commonly used to measure scarcity.  Our fresh water resources are still largely rain fed, although actions are being implemented to recognise and use treated water as a water resource. The availability of water is seriously compromised by drought conditions and many islands which normally would not experience water shortages, have instituted water rationing for their populations. Although the Caribbean recorded one of its wettest months of the year in November 2015, the annual deficit in rainfall remains large in many countries. The traditional dry season is upon us and the large rainfall deficit will result in low water availability in parts of the Caribbean.
At the same time that there is great concern about water availability since it affects all aspects of our lives at an individual level, as well as impacting on economies of the region, it is timely that Caribbean countries take note of the conditions of workers in the key sectors in which water is an integral part. These include agriculture, tourism, manufacturing, health and education just as examples. The matter of jobs and water is an important aspect that must be placed on the development agenda in the Caribbean.
According to the UN almost half the world's workers, 1.5 billion people- work in a water related sector and nearly all jobs rely on water to survive. This year's theme focuses on how the quality and quantity of water can change people's lives and livelihoods and even transform economies and societies.  According to the ILO, it is estimated that 95% of jobs in the agriculture and 30% of the jobs in industry are heavily dependent on water.
There is a clear link between national productivity levels and water scarcity and water quality. When a hotel closes due to a lack of water and visitors are cancelling their vacations to the Caribbean, workers are laid off. Farmers must irrigate their fields in order to grow crops to feed themselves and the population. When their crops wither away due to a lack of water, it becomes a matter of their livelihood. Farms close, agricultural plots lay abandoned and there is no income for the farmers. Poor water quality which causes diarrheal diseases also affects working people. They become sick, may have to be hospitalised and apart from the cost to the health services, sick days become lost days. Productivity is affected, thereby impacting economic growth.
As the Caribbean and the world observe World Water Day, we are urged to consider that water has the ability to create paid and decent jobs. Workers in the sector who are impacted by it, have a right to dignity, equality, safety and a fair income. We all need to be informed and to take action.
QUICK FACTS:
Improving water productivity to close world wide gap between supply and demand for water will cost US$50 to 60 billion annually over the next 20 years. With private sector investment comprising about half of that spending, positive returns could be expected in just 3 years.
An estimated 40% of the global of the economically active population work in crop and animal production, fisheries or hunting. Yet, only 20% are employed as waged workers and the remaining are self employed or contribute family labour to around 570 million farms.
Water supply and waste water facilities operators employ about 80% of the workers in the water sector.
Water resources are under pressure with water scarcity affecting around 40% of the global population.

Today, March 22nd is World Water Day. It is observed internationally and was first proposed in 1992 by the United Nations Conference on Environment and Development (UNCED). It was designated as such by the United Nations General Assembly in 1993. Each year, UN-Water — the entity that coordinates the UN's work on water and sanitation — sets a theme for World Water Day corresponding to a current or future challenge. This year the theme is: Better Water, Better Jobs.
For more information, please go to:
1. http://www.youtube.com/user/UNwater1
2. www.waterandjobs.org
3. Video statement by ILO Director-General, Chair of UN-Water: http://www.ilo.org/global/about-the-ilo/multimedia/video/institutional-videos/WCMS_460936/lang–en/index.htm
You can also contact:
ILO Decent Work Team and Office for the Caribbean
Ms Averlon Toussaint
Information Unit
Email: toussaint@ilo.org
Tel: +1 868 6237178/7704 Ext: 411
Website: ilo.org/caribbean
…
Caribbean Water and Wastewater Association (CWWA)
c/o Water and Sewerage Authority
Farm Road, St. Joseph
Trinidad
Tel: (868) 645 8681; Fax: (868) 645 7849
Website: www.cwwa.net
Email: cwwattsecretariat@gmail.com
Please see our Face Book page.
This article has been contributed to by CWWA Secretariat, the ILO Decent Work Team and Office for the Caribbean and Ms. Valerie Jenkinson, CWWA Member and CEO of World Water and Waste Water Solutions Ltd.