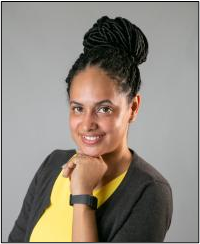 Angela Franklin hails from the home of the majestic Kaieteur Falls in Guyana. Angela currently serves on the Board of Directors of CWWA as Public Relations Officer. She has been a member of the CWWA since 2017 and was a member of the Local Organising Committee for the 2017 Conference held in Guyana. She has also served as Chair of the Guyana National Section since 2019.
Her passion for the environment was ignited in her secondary education years which drove her to pursue a BSc in Environmental Studies at the University of Guyana. Subsequent to completing BSc she spent the next few years living in Guyana's lush tropical forest as Monitoring Coordinator of the Iwokrama International Centre for Rainforest Conservation and Development. Forever a lover of water, her BSc would open her eyes to ways in which she could contribute towards the protection of water resources and directed her to pursue a MSc in Hydrogeology and Surface Water Management at the University of Newcastle, UK.
Upon completion of this she would merge her environment and water perspectives in her role as Senior Environmental Officer responsible for water at the Environmental Protection Agency, Guyana. Here she provided developmental projects with mitigation measures to ensure they did not have a significant negative impact on the environment and neighbouring waterways.
She would later take a more specialised role, which she currently holds, as Hydrologist at the Guyana Water Incorporated ensuring the safe and sustainable use of water resources for supply to the population.
Angela is proud to serve as Public Relations Officer as it will give her an added opportunity to share knowledge and to contribute towards the growth of the water and waste sectors for the development of the Caribbean Region.