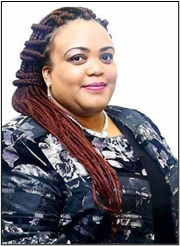 Candice Santana was raised in a rural village named Tabaquite on the edge of the Navet Dam in Trinidad and Tobago and found her calling in the water sector very early in life. She completed tertiary studies in Water Resources Management and Technology while engaged in academic work in the field of Agriculture, Climate Change and Rural Development and Planning. Currently, she is completing a MSc. in Project Management.
Ms. Santana is currently part of a dynamic team in the Water Resources Agency (WRA) at the Water and Sewerage Authority (WASA) with responsibility for the collection, analysis, modelling and reporting of hydrological data and information.
Through CWWA, Candice has worked on policy development, governance, capacity building mechanisms and various other projects for the Caribbean Region in water, waste management and climate change and resilience. She is also serving as a sitting member of the Scientific Committee of the Water Efficiency Network (WATEF), Department of Architecture and Civil Engineering, University of Bath, UK
Outside the water sector, Candice is involved in community service through the Tabaquite Vegetable Farmers' Association. She is also involved in youth development, gender equality advocacy, the body positivity movement and Caribbean culture.